HCCC's Makes Critical Changes to Commencement Ceremony
Hudson County Community College's Commencement ceremony has undergone some significant changes expected to come into effect this May 2020.
In a recent email sent out by HCCC's President Christopher Reber, students, faculty, and staff were notified of the changes which included a new location and time, reduced fees and new attire. President Reber also announced that James Elliot, the international President of Phi Theta Kappa Honor Society, will be the Commencement speaker.
"I am so pleased to announce that we are making exciting changes to our 2020 Commencement ceremony. This year's Commencement will be held at noon on Thursday, May 21, 2020 at Red Bull Arena in Harrison, NJ" President Reber states in his email.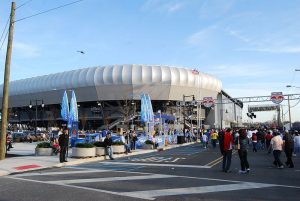 Along with the location change which allows graduating students to "invite an unlimited number of guests", there has also been a major redesign of HCCC's gap and gown.
The college's traditional colors have been green and yellow since the opening of the college. But the new cap and gown colors are now black and teal blue.
The college's $50 graduation application fee has also been eliminated and an electronic version of the graduation application has been introduced. Gone are the days of paper applications and the inconvenience of having to hand in a physical copy to the Bursar's Office, students can now simply apply online.
A celebratory reception will also be held shortly after the Commencement ceremony, for all graduating students and accompanying families.