HCCC's hidden cultural treasure
The college's Dineen Hull Gallery enriches the college and community.
Hudson County Community College has a robust and fulfilling campus life hidden away in the background of the chaotic and ever-changing Jersey City. It's unexpected but there is never a dull moment on campus with programs happening nearly every week. There are clubs and events that focus on teaching new skills for free as well as education for the community on contemporary issues. The most thought-provoking assets in HCCC's arsenal however is a hidden gem located on the sixth floor of 71 Sip Avenue, known as the Benjamin J. Dineen III and Dennis C. Hull Gallery.
The Dineen Hull Gallery is free to peruse and open every week not only for students but for the public as well. Unlike many other galleries located in Jersey City that temporarily closed due to Covid-19, Dineen Hull gallery managed to keep their doors open during the pandemic.
In an interview with Michelle Vitale, the Director of Cultural Affairs and Student Affairs at HCCC, she stated "I didn't even have docents for a good year or two. It was just me." Vitale stressed the fact that she did not have any help, nor employees working under her while Covid was happening. She managed to run the gallery solo as well as host several shows at the gallery on her own throughout 2019 and 2020.
Vitale also spoke about her day-to-day experience running the gallery alone. Sharing that she was stuck in her office for weeks on end, juggling multiple projects at the same time with little to no recognition for her efforts. Vitale cares deeply for the arts, being an artist herself. She saw the value in hosting lesser-known local artists and keeping the doors open during Covid.
Vitale's hard work in bolstering Dineen Hull gallery did not go unnoticed for long however when just last month on October 28. An article was written in the Jersey City Times by notable journalist, Tris McCall, celebrating the gallery's most recent exhibition "Your Home is My Home." In the article, McCall highlights how important heritage and different ethnic cultures are in critiquing our society and why people of all backgrounds can call New Jersey their home regardless of background.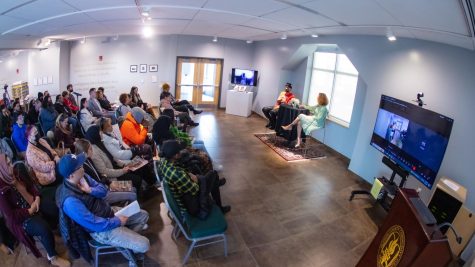 Tris McCall praises Vitale for not forcing a message with her curation of the exhibition and how the messaging is instead sewn and stitched into the art itself. Allowing for conversations about immigration and the harsh conditions for people in the artists' native country to emerge naturally. McCall even compared the gallery itself to its far bigger contemporaries such as MANA, accentuating just how much Dineen Hull gallery manages to achieve and stand out despite its modest backing.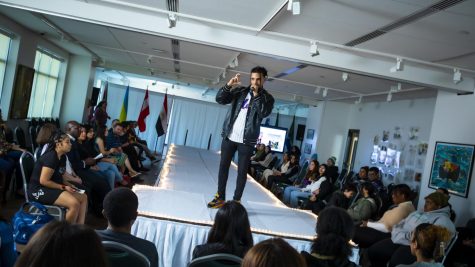 The gallery hosted a two-hour fashion show on Nov. 4, 2022. Student models celebrated clothing from cultures all around the world as well as those cultures' music with an announcer present entertaining the 80 or so attendees. There were activities post-show relating to the cultures that were celebrated in the show as well as free food from different parts of the world.
The gallery also hosted Chris Smalls in February 2023 with the backdrop of the gallery's Civil rights display. Smalls was the Amazon Union leader who spoke with students on the adversity and challenges he faced from working and being fired from an Amazon warehouse.
The gallery holds an important role in hosting community events and exhibits like these and many more in the future.