The Pow(h)er in her story
The Closing Reception of Pow(h)er exhibition brings together artists, students, and faculty in the Dineen Hull Gallery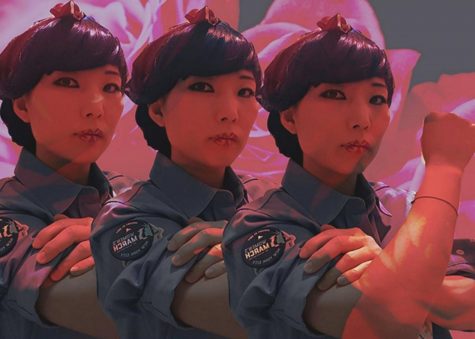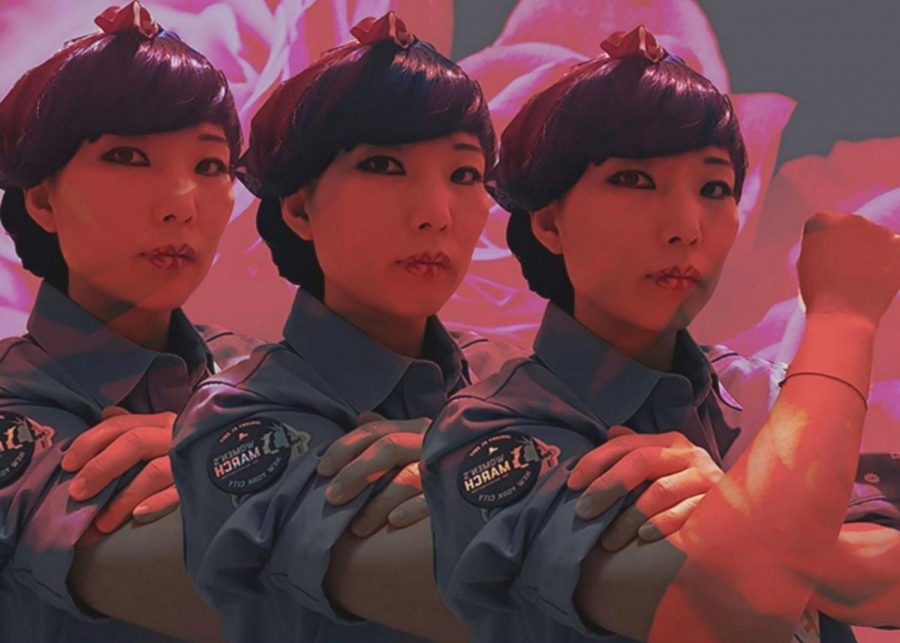 To commemorate the end of Pow(h)er, an all-woman contemporary art exhibition, Vice-President Eric Friedman hosted a book discussion on "The Power" by British novelist Naomi Alderman to bring together students and faculty in a conscious effort to recognize the dynamics between gender and power, in the heart of the Dineen Hull Gallery.
From August 1 to September 24, Pow(h)er, curated by Michelle Vitale of HCCC's Department of Cultural Affairs (DOCA) and Kristin J. DeAngelis, a Jersey City art curator, featured thirty-four works of contemporary art by thirteen "fierce" female artists to celebrate the 100-year anniversary of the Women's Suffrage Movement.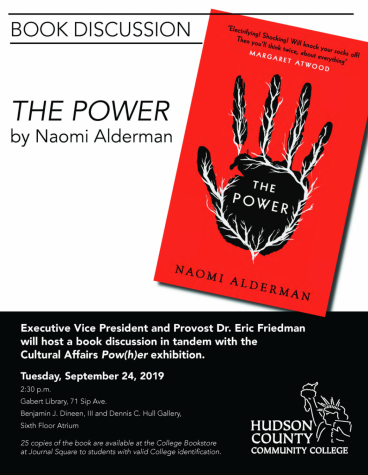 In keeping with themes of Pow(h)er, Friedman homed in on the definition of power and its distribution in society through Naomi Alderman's 2016 dystopian fiction novel, "The Power."  The novel introduces a dystopian world were women develop the ability to release electrical jolts from their hands.  This supernatural ability causes a shift in power, making women the dominant gender.
The book discussion offered students an in-depth understanding of the dystopian genre and its "ability to let go of certain expectations and to suspend disbelief" said Friedman.  He encouraged attendees to analyze how dystopian authors, such as Alderman, can cause readers to take a closer look into their own society.
Attendees discussed how different or the same our society would be if it were matriarchal?  Such a change would affect power,  hegemony, and the patriarchal power structures that exist subconsciously in people's minds. "This book is like a sharp stick that someone's poking us with, and you can't ignore it" said Friedman during the discussion.
The Pow(h)er exhibition was full of sharp thought-provoking pieces about femininity, intimacy, and girl-power.  Amongst the all-women line-up, local contemporary artist, Blond Jenny, parodied Rosie the Riveter in her 10 x 8 in. self-photograph on acrylic forex, "Women Can Do It #2."  Curators chose the image as the exhibit's front cover because its character embodied the image of the modern-day working woman in America, still fighting the good fight 100 years after the Women's suffrage movement.
In the photograph, the artist wears a work uniform with the proud message "WE CAN!" printed on her lips.  The background is an image of a bloomed rose, an element with a double symbolic meaning for the national flower of the U.S. and a flower as a symbol for womanhood. According to Blond Jenny, the three repeated images of the artist are representations of you, me, and us to convey the message of community and togetherness.
She uses multimedia and mixed media art to create concept images that express femininity with tones of nostalgia through elements of nature.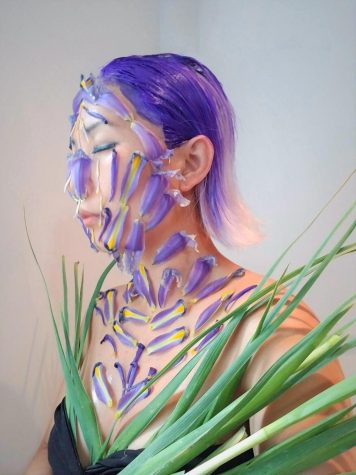 "I'm a flower and like all women am a part of mother nature. We have the power to heal everything in society. We can make the world a better place with our love and care," said Blond Jenny as her mission statement for her art.
Born in Seoul, South Korea, Blond Jenny's name is inspired by her favorite childhood Japanese cartoon character, Blonde Jenny.  The dropping of the e in blond removes gender-binding limitations to increase her freedom of expression.  In 2006, she started to wear a mask of the cartoon character in her self-portraits and performance art to "escape her fears and tell her story."  But when she moved to New York in 2012, the Blonde Jenny mask became a symbol of her nostalgia for Korea.  The big move influenced her art heavily to illustrate the cultural dynamics between Korea and America, through a mixed media body of work, using photography and painting to illustrate reality and fiction.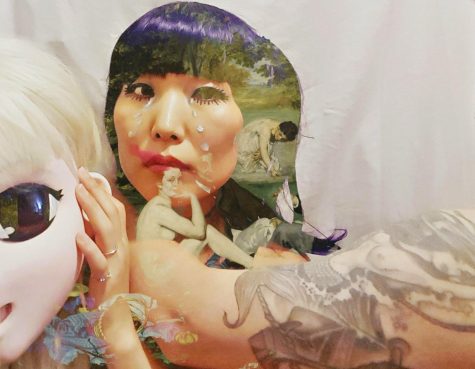 In 2017, she removed her mask after attending The Woman's March in Washington D.C. where she felt empowered and inspired to create art about social justice, particularly in women's issues, through photography. The march brought her a newfound liberation to no longer hide behind the mask.  Her work after taking off her mask is much more "intimate" and subtly "erotic" in her embrace of feminine qualities with pieces of nature including flower petals and branches, as can be seen in "Women Can Do It #2."
In all, the book discussion left participants in awe during the Closing Reception of Pow(h)er.  The conversation left attendees wondering,  "what is the source of their power?" For Eric Friedman, reading offers a powerful gift that grants him the ability to expand his horizons and continuously evolve as a person, administrator, and family man. To Blond Jenny the voices of women encouraging other women to step out of line through creative expression remains the source of her power.