Season of Change: How HCCC Has Handled the COVID-19 Pandemic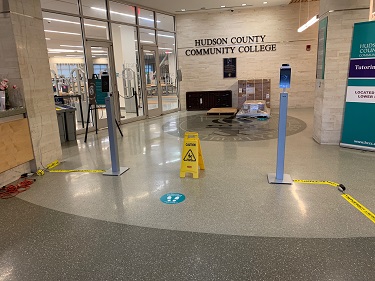 Remote learning, social distancing, mandatory masks, and health screening tests are just a few of the many way's life has changed for most of us since COVID-19 was declared a global pandemic.
At Hudson County Community College, the average student routine has also been affected in more ways than one. In June, HCCC's President Chris Reber announced alongside the Return to Campus Task Force its plans to safely reinstate its courses for the upcoming fall semester in the form of remote learning as well as varied in-person classes.
"Looking ahead to fall semester, HCCC anticipates offering high-quality, student-centered instruction through online and remote modalities for the majority of its courses… select lab, clinical, and culinary courses may be offered on campus with full adherence to health and safety protocols…," said Lisa Dougherty, Co-Chair of the Return to Campus Task Force, back in June.
Now at the start of the Fall 2020 semester, students are finding the new changes to be a bit of a learning curve.  In a recent interview with Amanda Romero, a Culinary Arts major at HCCC, she had much to say about the lifestyle changes she had to implement amidst attending classes during a public health emergency.
"The transition was something I definitely took some time to get used to. Prior to this, I had never taken an online or any hybrid type class. The first few weeks I seriously struggled with some technical difficulties and had to learn to just give myself extra time to make sure everything was in order before a class," Romero said.
While most students have chosen to schedule their classes to be entirely remote, for others in-person classes have become a regular occurrence. With specific protocols implemented to ensure that each student follows the safety standards issued by the World Health Organization, the in-person classes we once knew is that of the past.
"Well face masks are of course required. They also have temperature checks upon entering any building. I also noticed the strict capacity guideline that we have to follow when using the elevators and restrooms as well. I had to realize pretty early on that all of this of course takes longer than usual making it essential to leave early when heading to [in-person] classes," she stated.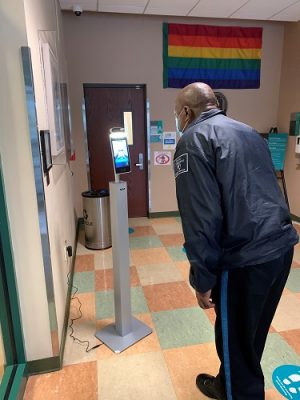 What was once HCCC's most heavily trafficked locations, the L-Building, is now a clear indication of what many would call the 'new reality'. Whether it is due to certain capacity guidelines or the limitation on the number of in-person courses, the usual bustling in HCCC's Library has now died down to a scattering of a select few. Images of tumbleweeds rolling down a deserted road may spring to mind.
With notices posted virtually everywhere upon arrival as well as hand sanitizing stations and thermal mirror systems at the entrance, the college is certainly treading new and unfamiliar grounds.
And while no updates have been given as to the state of what the Spring 2021 semester will look like for faculty and students at HCCC, it is safe to say that a new season will certainly bring more changes.