Women's Empowerment Dinner
The Women's empowerment dinner featured fun games, good food, and a forum to share experiences.
Student Activities held a Women's Empowerment Dinner, in the STEM building in March. The main goal was to share funny moments, get to know people. Gender equality brought this group of strangers together. Throughout the event a message of being confident with ourselves, having a strong self image, and encouraging community bonding, were the main focus. The majority of attendees were women, but men also joined us, sharing their ideas and beliefs with the group. 
The majority of participants were students from our school [and a small amount of the general public]. 
"We create events of all types." says Veronica Gerosimo, the Assistant Dean of Student Life and Leadership. "We created these events because we thought it would help people make new connections and get along with other students."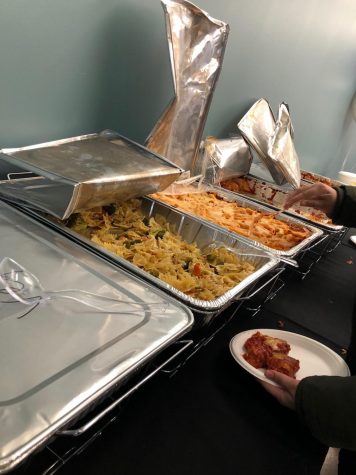 A buffet table lined with a culturally diverse spread of food bordered the wall. While attendees enjoyed an early dinner, Assistant Dean Gerosimo began asking a round of questions. After the questions Whitney Arthur, a coordinator of the event, began giving a presentation.  After her presentation Whitney led the room in a game of charades. Our table's topic was Celebrities, featuring Oprah, Adele, and Ellen Degeneres, to name a few.  Other tables got very interesting topics such as "Songs of the 90'", and "Songs of the 70's". 
The event began to wind down, allowing attendees to chat and take pictures. Women shared stories about  traumatic moments in  their lives.
"My divorce." said Candice Paredes, an HCCC student, "I was [a victim] domestic violence for ten years and I didn't have papers to be in this country
legally … I had to stay with my husband [during] that time." Candice said sadly. "There wasn't any help for me because immigration law doesn't protect women in domestic violence. I didn't have any one to help me. Once my papers came I got out of that relationship."  
Simone Ebeid, an HCCC student, shared some of her life experiences with me. "I don't like to feel unsafe, especially in my country" Simone Ebeid recalled. "Egypt is a pretty good country but some places, the guys are not good. They look at you always, like stalking you. I don't like that." expressed Simone angrily, "I would like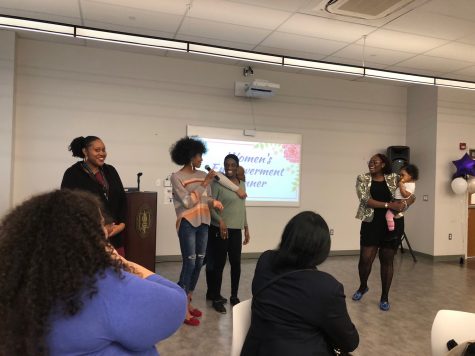 to walk free, and speak freely and do whatever I want anytime I want, but some places there, I cannot do this."  
My last interview was from Janice Urguhart, a local mother, "I'm from Jamaica." introducing herself. "What hit me hard is when I had my son and my son's father wasn't there." she continued. "I got the chance to come here because my mom was living in here for twenty-something years. It was really hard for us back home. It was really poor. But, it's not really a poor country but [a large population] is poor. I wish we could change that though." said Urguhart disappointed. "It was very hard there. The drugs, the guns, it was very bad. That's was why I moved here."

The event gave a lot of women a space to share their experiences and struggles with a friendly group. It was a great way to foster growth for the gender equality movement locally. In a time of great adversity it was refreshing to see local movements gaining strength.