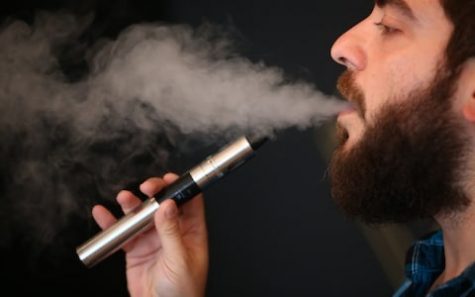 Vaping is seen in all corners of the world from recreational parks to smoke-free zones, and even on HCCC Campus.
Vaping was established to help tobacco smokers quit, but it actually worsened its consumers' status on nicotine usage. Certain Juul consumers became addicted to these products and have landed in emergency rooms as a result.
The Orator asked HCCC students about their experience with vaping. These conversations give insight on how addicting and how much of a social burden vaping is. The students interviewed for this story chose to be identified by only their first names or by a pseudonym because they didn't want to be  linked to a habit many people judge negatively:
"I am madly addicted to vaping"
"Isa," a 20-year-old HCCC student, started vaping as a freshman in high school after being introduced into the party scene. At the party not only did she meet her future best friend, but also her love for vaping. She has since bought a Juul to support her vaping habits. Isa chose Juul because of its convenience, accessibility, and affordability.
"Juuling" consistently for the last several years has made her attentive to reports of people dying related to vaping.
Nicotine addiction has also caused a financial burden, as she spends around $100 monthly and intends to quit in the near future.
"I am thinking about quitting to save money for school, groceries, and other things I may need," she said.
"Juuls at bodegas are for people of all ages"
Marin, a first-year HCCC student, first picked up a Juul when hanging out with friends. At the park, one of his peers pulled out what seemed to be an electronic cigarette. Subsequently, Marin "hit it" and has been addicted ever since.
"I was asking my friends to let me 'hit' their Juul," he said. "I bought one at the bodega the next day, I couldn't help it."
Law enforcement has begun cracking down on local corner stores selling Juul to underage people, partly, due to rigorous public pressure, and most notably after the FDA declared vaping among the youth an epidemic.
"You can buy smoke items at the smoke shop and delis they don't ask for ID," he said.
Marin hasn't vaped since July, after hearing about the number of people heading to the emergency room and these electronic devices exploding in some cases.
He has picked up safer alternatives to smoking, but will eventually switch back to Juul when reliable medical experts come up with a conclusion as to why Juul products are malfunctioning.
"I must quit for the better"
Isabel, a 19-year-old student at HCCC, fell into the vape world after being introduced to vape products by friends. She started vaping freshman year in high school at the age of 16, but stopped until the fear of being left out, stress, and new vape product, Juul, was introduced into the general market.
"I wanted to try it. My friends did it a lot. Why couldn't I?" she said.
What followed was an annoying habit which she wanted to quit. This habit of vaping became vivid after stepping foot on the HCCC campus, where it's a fast-paced environment, a high-stress setting, and it seemed like almost everyone around her vaped.
Most recently, Isabel has felt lightheaded whenever she vaped. So, she knows she has to quit for the better. Isabel is currently looking for safer alternatives to cope with her stress.
"I felt this inconceivable pain"
"AJ," a first-year student at HCCC, started vaping when he lived in Florida in 2018. His friends were all committed smokers, and he eventually began smoking cigarettes.
AJ wanted to cut down on his cigarette use, so he relied on Juul to help quench his urge to smoke nicotine. AJ soon became addicted to Juuling and spent around $50 a week on Juul pods.
Consequently, one night he felt sharp pain throughout his upper body and didn't know why. AJ was a star football player for his local high school, so there shouldn't have been any issues with his heart or general fitness. This was abnormal for a player of his caliber.
"My doctor told me it was an issue with my lungs," he said. "I didn't think smoking would ever send me to the emergency room."
After his unforgettable experience with "Juuling," AJ tells his story to his classmates and neighbors who are trying to quit.