NaNoWriMo 2019: We're all in this together
DOCA and Jersey City Writers bring a writing community to campus in time for NaNoWriMo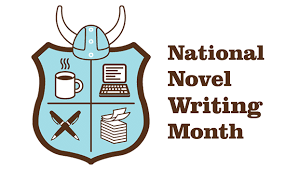 There's a marathon for everyone: for the runner, there's the iconic 26-mile race, for the couch potato there are Netflix binges, and for the writer, there's National Novel Writing Month.
NaNoWriMo (pronounced Na-Noh-RYE-Mo or NaNo for short) is an annual novel-writing challenge to complete the first draft of a novel during the month of November. NaNoWriMo was founded by Chris Baty in 1999 in an effort to encourage others to let their voices be heard on-page and in a writing community.
Earlier this year, the college's Department of Cultural Affairs invited Jersey City Writers, a nonprofit organization, as part of their artists' residency program. During the Spring 2019 semester, Jersey City Writers hosted a Writing Bootcamp, in the 6th-floor atrium, that included a series of helpful and informative events for writers of all levels including a Publishing Panel, Writing Tips and Tricks, Poetry and Prose Open Mics, and even boot camps about specific genres such as dystopian fiction and fantasy. The event was such a success, bringing in an average of about 30 attendees per workshop, that Jersey City Writers were invited back to host NaNoWriMo.
This November's NaNoWriMo events consist of fifteen marathon workshops hosted by different members of Jersey City Writers where students, faculty, and local writers alike are welcomed to join one another in a ready-to-write workstation with tables, chairs, and notepads, in the 6th Floor atrium of the L Building.
Jersey City Writers is also holding a fun raffle for students who attend. HCCC students have a chance to win gift cards towards local student conveniences such as Dunkin Donuts and Chipotle by entering a raffle ticket upon entry to a marathon event.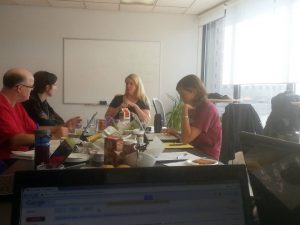 Although NaNoWriMo is a marathon, there's no competition to the finish line. Rachel Poy, co-founder and president of Jersey City Writers, encourages all to join whether working on a novel, poem, or homework assignment. Poy not only hopes that NaNoWriMo helps writers accomplish their writing goals but to also, "know that they're supported in a community. That there's a whole group of volunteers and other writers there for them to push their written word and get them writing."
During a phone interview, Poy stated "Writing is pretty much a lonely sport, so to have other people to workshop with or bounce ideas off from, even to talk about the obstacles you face in your writing, goes a long way. It doesn't have to be a lonely sport."
After all, being a part of a community that encourages you to accomplish your writing goals is the spirit of NaNoWriMo.
Happy writing!